About the Peace and Reconciliation Library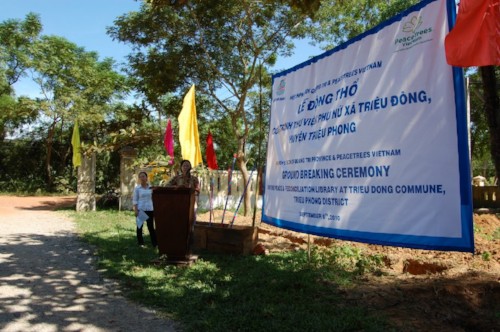 Completed: 2011
Project Sponsor: Friends of Chuck Meadows
Located in the Nai Cuu hamlet of Trieu Dong Commune, the Peace and Reconciliation Library provides a learning space for all. In addition to the library, a playground was built on the grounds for children.
For the people of Quang Tri, where the average per capita income is less than $300 per year, a library is much more than just a building full of books. It is a place to read and learn. It is a place for children to study and grow. It is a place for meetings and adult education. It is the focal point of the community and a place full of opportunity. Because the site has been cleared of landmines and other unexploded ordnance by PeaceTrees professionals, it is also a place that is safe.
The Peace and Reconciliation Library is dedicated to Colonel Chuck Meadows, who spent six years serving as PeaceTrees Vietnam's executive director. He spent 26 years in the Marine Corps, including two tours in Vietnam. Since his retirement he has returned to Vietnam more than 40 times on personal missions of peacemaking and reconciliation.