The Rae Cheney Legacy Circle
---
Honoring an Extraodinary Woman
On August 16, 2017 PeaceTrees Vietnam lost a shining light -  Rae Cheney, founding board member and 97 year old Gold Star mother of US Army helicopter pilot Dan Cheney who died during a rescue mission in Vietnam.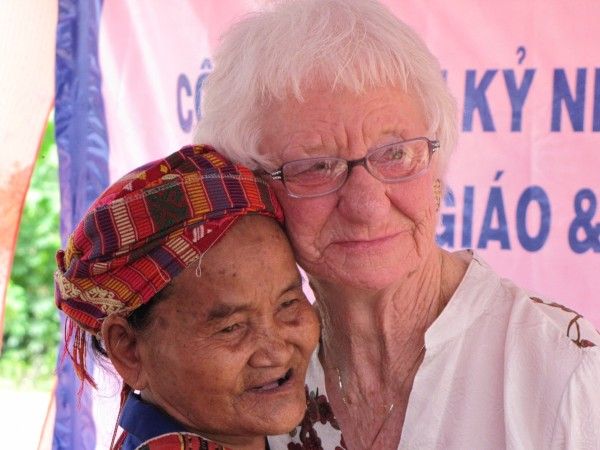 Rae was our moral compass and an inspiration to all who served on the board with her. 
She embodied values that PeaceTrees stands for: love, compassion, healing, understanding, and welcoming to all. In Rae's words:
"The most important aspect of PeaceTrees Vietnam's vision and mission is 'healing for all those impacted by the Vietnam War…veterans, mothers, fathers, families on all sides… Only parents of a lost soldier could describe the depth of pain in losing their soldier.'"  In talking about her reason for being involved with PeaceTrees she said "I felt it was within my soul to reach my hands to the families on both sides of this war, to begin to heal."
To continue her legacy, the board of PeaceTrees Vietnam invites you to join the Rae Cheney Legacy Circle.  We want to make sure that the values that Rae stood for and her commitment to healing through PeaceTrees Vietnam's work on the ground is assured for the next generation. The Rae Cheney Legacy Circle will enable PeaceTrees to expand upon the work that Rae so passionately championed during her life.
Founding members of the Rae Cheney Legacy Circle can make a onetime gift or an annual pledge for five years to honor Rae's legacy of humanitarian service. Gifts can be made online, by mail or by calling PeaceTrees Vietnam.
Thank you for considering a gift in honor of Rae's inspiring and courageous legacy.