About the Mo O Library (Lotus Friendship Library)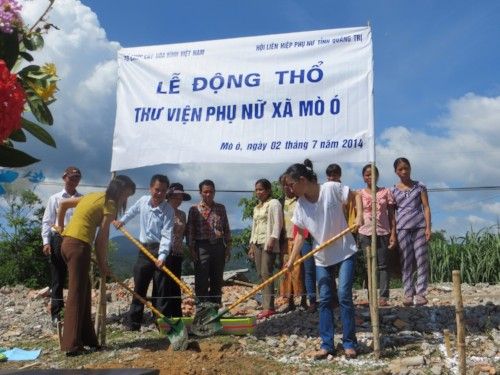 Completed: 2014
Project Sponsors: Jim Lewis, Diann Logie, Megan McCloskey, Joseph Rowe, Sue Warner-Bean, and Marci (Warner) Williams
Project Advisors: Chuck Meadows, Neil Leonard, and Kevin Espirito
Mo O is a small commune located 3 km from the center of Da Krong District in Quang Tri Province, where heavy fighting occurred. As a result, Da Krong has the highest number of people who have died or been injured by landmine/UXO accidents since 1975. In addition, the legacy of war has significantly hampered socio-economic progress in the area, which has contributed to high poverty rates and low literacy levels in Mo O. 
Although Mo O is well-connected with other communes, the level of education for women is considered very low, and the commune has very little access to books, newspapers, or other means of communication and learning material.
The Mo O Library is designed to create a space for local community members – especially for women and children – to study and increase their knowledge. This will give them the ability to actively participate in local development projects. The library provides local residents with access to information about agricultural production, mine risk education, the economy, culture, and society. It also houses the local Women's Union, which provides local women with a better place to work and organize social and cultural activities. Finally, it also serves as a local meeting hall and is equipped with a playground that provides a safe place for children to play.
The building includes:
A reading and working room

Bathrooms, a kitchen, and a playground

An emergency shelter space for women to use when the need arises, such as after an incidence of domestic violence
The Mo O Library project was undertaken in part to honor US Marine Corps veteran Joe Rowe who passed away in 2016.