Enabling those impacted by UXO accidents to study
Quảng Trị Province has a high population of those living at and under the poverty line. Many of these families not only live in poverty but have family members who have been injured or killed in an accident involving a piece of unexploded ordnance. This places financial strain on a family already struggling to provide for their members. As a result, the children of these households are unable to attend school, ultimately perpetuating the cycle of poverty as the children grow up without an education and fewer economic opportunities. As a result, access to education is a proven poverty reduction measure as it allows children to go to school, become educated, and be more economically secure with the experience that comes with learning Vietnamese and other skills.
This project started in 2005 to support the children of Quảng Trị parents who were in UXO accidents. We have learned to work with the community to support children ages 5 to 22 so they can attend primary school through college. To date, we have provided scholarships to over 2000 children in Quảng Trị Province. PeaceTrees scholarships include a full-year of textbooks, notebooks, uniforms, meals, and additional administrative fees that these children would otherwise be unable to afford.
Scholarship Story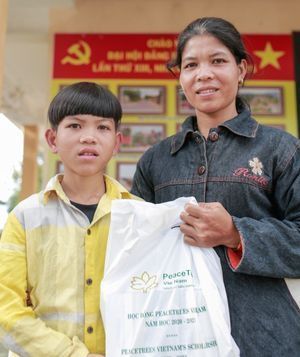 Đinh is a 6th grade PeaceTrees scholarship recipient who received our Landmine Accident Survivor Scholarship for the past two years. In 1996, Dinh's Mother, Thuc survived an unexploded ordnance accident that severely injured her right arm. In the wake of disaster, sending a child to school can be an impossible expense. PeaceTrees' scholarship program has provided Đinh with the opportunity to earn an education and has removed the burden of schooling costs from his family. This story reminds us that though the fighting ended more than 45 years ago, thousands of people continue to feel the lasting impact of war. Together we have made exceptional progress, but there is still much work to be done. We hope that you will walk alongside courageous families like Hồ Văn Đinh and his mother, Hồ Văn Thuc, as we continue these critical programs.
More Scholarship Recipient Spotlights