Oanh Vo – Financial Officer & Administration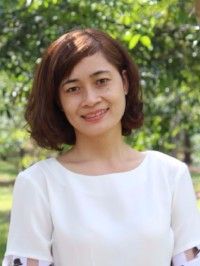 Oanh Vo is PeaceTrees Vietnam's Financial Officer. She joined PeaceTrees Vietnam in 2008 and has been in charge of all of the Đông Hà office finances since that time. Oanh's role includes guiding PeaceTrees Vietnam's partners in financial procedures and making financial reports to the US office. She also helps with office administrative tasks including: labor contacts, employees' insurance, and others.
Oanh graduated from the College of Finance-Accountancy and prior to joining PeaceTrees Vietnam, she worked for several other companies in Đông Hà. She is the mother of two sons.