Central Vietnam Flood Relief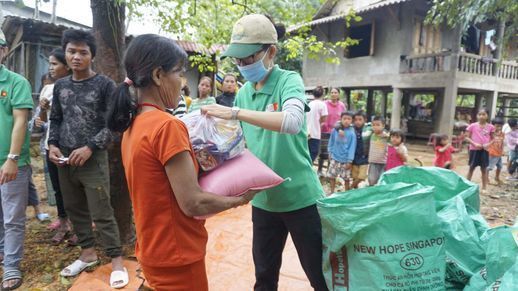 October 2020 has brought one disaster after another to communities across 11 provinces in Central Vietnam where torrential rains, flooding, and severe landslides have now impacted over one million people. In Quang Tri Province, where PeaceTrees is headquartered, a landslide leveled barracks on October 19th, and killed at least twenty military personnel. Throughout the province, countless families have lost their homes and livelihoods and are facing a seemingly impossible road to recovery. We are heartbroken by the loss of life and offer our sincerest condolences to those who have been affected by these horrific events. 
In addition to the tragic loss caused by these storms, landslides and flooding have moved and unearthed dangerous ordnance which now pose an even greater threat to entire communities. Our Explosive Ordnance Disposal teams, who are experienced in providing emergency support in rural, difficult-to-reach areas, are working to safely move and detonate the bombs so they do not cause further destruction. 
As we begin to truly assess the damage and plan for recovery, we are grateful for the ways our community has come together to support the people of Vietnam. There are many PeaceTrees projects that will need repairs and unfortunately the Jesse Griego Kindergarten will be needing an entire rebuild because of severe damage caused by flooding.
In the wake of these floods, our mission is even more critical and the need to return land to safe and productive use has never been greater. If you are able to help, we invite you to make a donation to the Central Vietnam Flood Relief Fund or the Jesse Griego Kindergarten Rebuild Fund and provide much needed aid to help with immediate and long-term recovery and rebuilding efforts in Central Vietnam.
*When selecting the designation of your donation, be sure to choose Central Vietnam Relief Fund or Jesse Griego Kindergarten Rebuild*
Read more about the flooding with these articles: NY Times, The Washington Post, VietNam News.