Addressing systemic issues of flooding, erosion, and land contaminated with UXOs
Project Sponsor: Dan Gilman
The Ba Lòng Peace and Friendship Community Center is part of the larger PeaceTrees community development project in Ba Lòng: the Ba Lòng Pilot Village Project. This project is being completed in partnership with local community leaders and is a multi-phase initiative involving family and community economic, educational, and capacity work.
The project is located in the south central part of Quảng Trị Province, in Đa Krông District. Ba Long was the site of heavy artillery fighting and air bombardment during the Vietnam War. In fact, an estimated 97.2% of land in Đa Krông District is still contaminated with UXOs which significantly contributes to the extreme poverty seen throughout Ba Lòng. Because the terrain is also mountainous and much of the land is eroded and of poor quality, many families in Ba Lòng Commune build homes and tend small fields along the banks of the Đa Krông River. Unfortunately, this land is highly susceptible to punishing flooding that occurs during the annual "wet season" in Vietnam. Every year during this winter season, many families lose their homes, crops, livestock, and even their lives.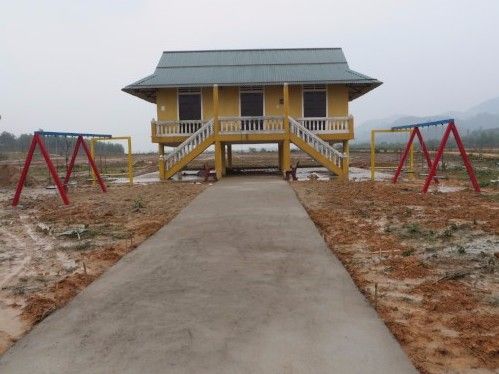 Community Center Highlights:
The center is located near pilot village homes and is a short walk from PeaceTrees' Pat Lucero Library.

Local leaders wanted a community center to help anchor the Ba Lòng village when it was relocated.

The center is used as a community meeting place, training and learning space for all, and a venue for cultural and sporting events.

The center is run locally by the People's Committee of Ba Lòng Commune.