Meet PeaceTrees Deminer Nguyễn Thị Lệ Khuyên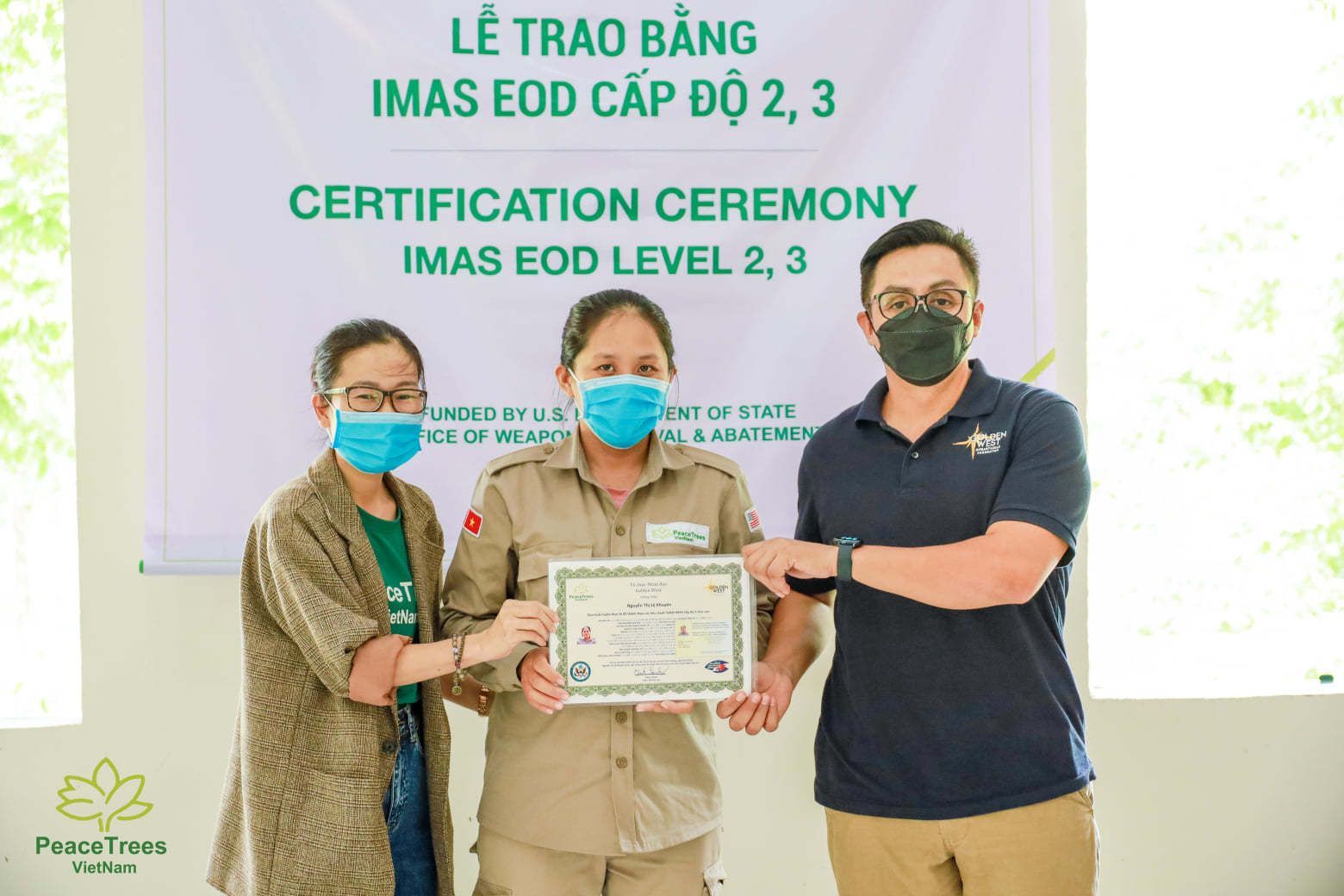 Nguyễn Thị Lệ Khuyên has been working with PeaceTrees since 2018. She recently became the first woman EOD technician to be certified at IMAS Level III.
On July 23, 2021, PeaceTrees Vietnam EOD Technician Nguyễn Thị Lệ Khuyên became the first woman in Vietnam to achieve Level 3 International Mine Action Standard Certification. Khuyên joined our team in February 2018 and was selected for advanced training after excelling in her initial courses. She has quickly become a leader in the field. When asked about her own motivation and experience, Khuyên commented:
The more I work, the more I feel attached to this work. After we finish clearance, new roads are constructed, and new schools are built. I feel so happy watching the children playing. I think about my son enjoying the same experience. My son once asked what I do and I said I work on EO clearance. He replied: "Bombs and mines can explode, Mom. Don't do it, explode, fatal." I told him: "My job is dangerous, but I was fully trained and I know how to keep myself safe." My son believes in me because my work brings peace and safety to people. When an EO is safely handled and people can continue farming without danger, all of us on the demining team have a feeling of joy in our hearts. I am very proud of our work and the PeaceTrees Vietnam family.
Each day, Khuyên works as a member of PeaceTrees' Battle Area Clearance Team #3. She occasionally joins a PTVN call-out team that responds to reports of suspected EO and provides risk education to residents in the vicinity. Over the past three years, thanks to increased capacity-building support from the U.S. Department of State and in partnership with Golden West Humanitarian Foundation, all PTVN EOD Technicians have received world-class training.